Luke Parish is part of the formidable Perth-based outfit The Psychedelic Porn Crumpets. After hearing the debut release 'Informative Noise', from his solo project People Taking Pictures, we were keen to have a chat.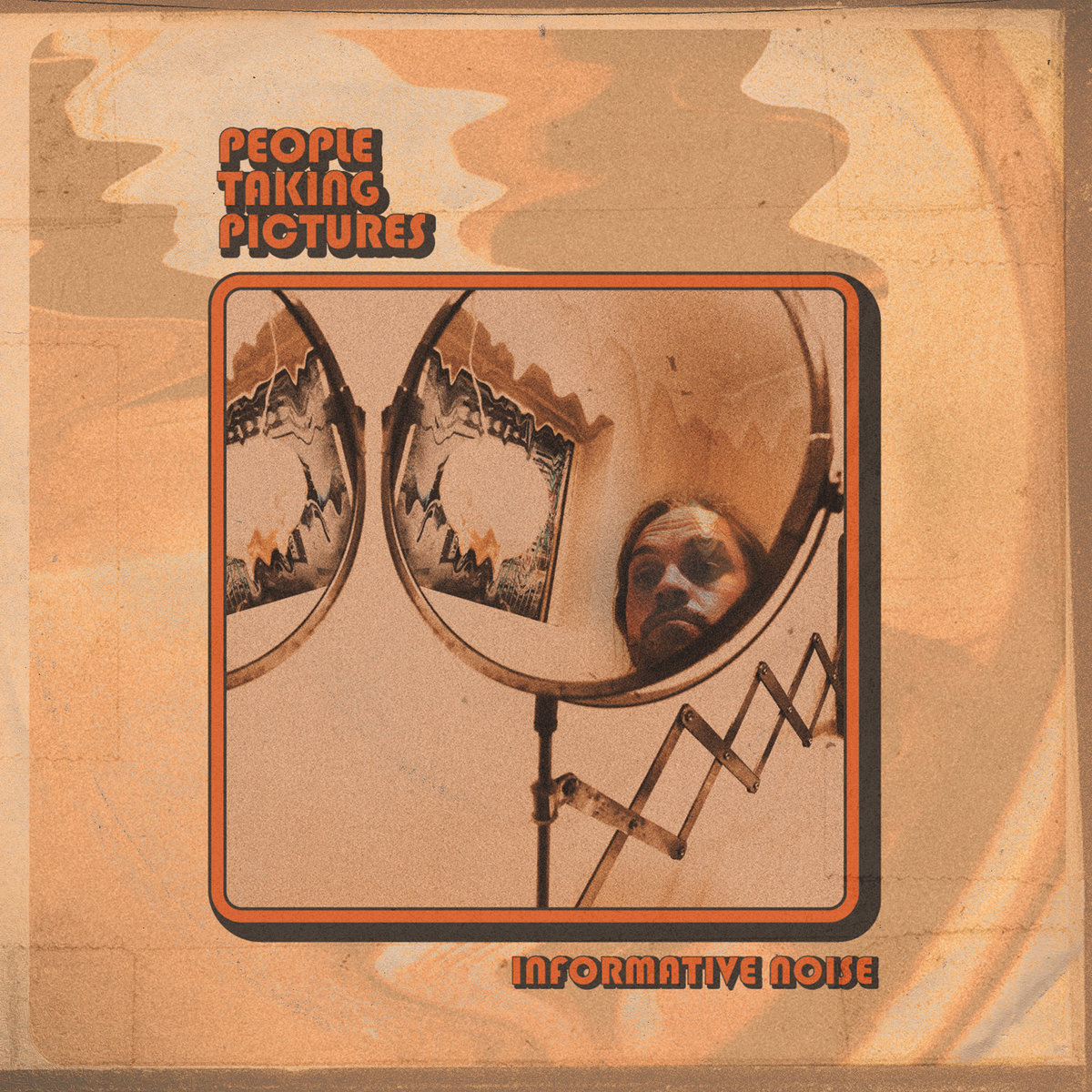 TSOFDs: Hey Luke, thanks for chatting. So, first of all, why the need for a different psychedelic project?
LP: My taste in music has always been so broad that I kind of wanted something different that could go between genres more and have no limitations. PPC has always been Jack's (McEwan) primary focus and so I suppose I wanted a secondary outlet that I could write songs for and take what I've learned from PPC. There's also something different about working completely solo as you kind of force yourself to be critical of everything without the input of anyone else, so for me the focus on the project was pretty clear with what I wanted to achieve.
TSOFDs: A lot has been made of the great psych music coming out of Australia, just in Perth alone. Rather than rehash the same old questions regarding why there's such a strong general scene, I'd prefer to ask you what personally turned you on to making psychedelic music – was it early formative experiences, parents playing music from the 60s and 70s, etc? Or did you go to a gig and a psych band just happened to blow your mind?
LP: I think when PPC first started there was definitely an abundance of psychedelic-esque projects happening in Perth so it was inevitable that we would be heavily influenced. When I first finished high school I was going to watch Tame Impala and Pond do their album launch shows and it was so exiting to see such great music at that point in my life. I grew up with a diverse taste in music too that could be deemed psychedelic. My parents listened to a lot of world music, jazz, lounge and trip hop stuff so I was already primed to get further into psychedelic music. Bands like Strawberry Alarm Clock, The Allman Brothers Band, Steely Dan and John Mayall and the Bluesbreakers were some CDs I had as a kid I loved.
TSOFDs: Reading about your new album it's striking that you've been dipping into music by the likes of Massive Attack and Stereolab. Can you tell us more about what your favorite records are by these two and, just out of interest, ever listen to much Broadcast?
LP: It's interesting you say that because Broadcast were a massive influence on me particularly towards the end of making the record. When I was touring a lot, my go to albums were Haha Sound and The Noise Made by People, I absolutely loved the production on these records. Another artist I failed to mention was Boards of Canada, I had Geogaddi on repeat too for long car trips. As for Massive Attack probably Mezzanine and some tracks from Blue Lines. I watched Stereolab for the first time last year and it was incredible, my favorite record of theirs is Dots and Loops.
TSOFDs: Hip hop, jazz and soul are also cited as significant influences on this new album – there seems to be a lot which has been thrown into the melting pot. Are there any particular artists you'd recommend our readers listen to within these genres?
LP: I'll make a small list haha. Badbadnotgood, 30/70, Kamaal Williams, Milo, Jeff Parker, Hiatus Kaiyote, Menahan Street Band, Joe Henderson, Jack Wilkins, Karriem Riggins, Alfa Mist, Django Reinhardt.
TSOFDs: That's some great listening to be going on with. Let's discuss writing/recording. With the 'Crumpets it seems one person records a basic demo starting with guitar, and you build from there, swapping out the computer drums for real ones, and so forth. That seems like a great idea for keeping the original vibe of the track. For this record did you approach it in a similar way – write/record on guitar then replace stuff – or was it more a throw different elements at a blank canvas and see what sticks? Did you have a clear picture of where you were heading or was it a case of just writing and recording and seeing what happened?
LP: This project kind of started as two different projects. I had a lo fi beat tape I was making and then another project with vocals, guitars and other bits and pieces. Rather than do two separate things I decided to actually merge the two and it just kind of worked mashing it together. Nothing was recorded in any particular order, some started from drum breaks I had recorded months before, others started with samples that were then replaced by different live instruments and parts. It was kind of this mad scramble that was eventually polished into resembling an album. I always wanted it to flow though from start to finish, as I love the way albums join songs together and can be listened in one hit. The Avalanches do this really well and take you on a journey without stopping.
TSOFDs: At its worst it could be argued psych music is long wig outs that don't really go anywhere. The notable thing about Crumpets' output, and now your new record, is it doesn't outstay its welcome. Even though Informative Noise is something of a sprawling, disjointed journey, with many odd and intriguing little juxtapositions, you keep things moving along perfectly. Is there a conscious choice to do this that requires a lot of self-editing or have you honed the knack over time so it just comes naturally when you're composing?
LP: The modern take on psychedelic is quite broad but I also think there's less and less jam bands because people's attention spans are shorter and you want a direct injection of an idea that doesn't drag out. I think this is the way the genre has kind of moved forward into the future. With the production of Informative Noise it relates back to that idea of creating an album rather than a compilation of singles, the album is always at the forefront as being one single piece. By subconsciously having that at the back of your mind, you're always going to make something that flows well regardless of how much things change song to song.
TSOFDs: As a listening experience there's a great combo of modern and more retro components going on throughout the LP. Can you spill more beans on the nuts and bolts of how you put this record together or do you prefer to guard your secrets?
LP: The album is mostly real instrumentation, there is kind of a layering thing going on with most tracks, where I will do percussive elements electronically but record traditionally using a drum kit. I always like to use analog equipment before it hits the computer. Then the mixing and editing is done digitally hence some of the more modern effects on tracks.
TSOFDs: Thanks for the insight. You released this record under your own label. Could you ever be tempted to sign for a major?
LP: I don't think it's worth signing with any majors as streaming can be a great source of revenue for independent artists and owning the rights to your music is always a plus down the line even though you might not feel like you're earning much now.
TSOFDs: Is your label looking for other psych acts to release records by or is it just for you and the 'Crumpets? Should any of our muso readers be sending you demos?
LP: We always love receiving people's music because it's exciting to hear what's going on around the world. I suppose for us, our touring schedule has been so mad that it's been hard to go beyond our own inner circle of people for now so the label has not expanded yet as such.
TSOFDs: Any plans to visit China in the near future?
LP: We would love to come to China and I have heard it mentioned so hopefully this year! (no promises).
TSOFDs: We'll keep our fingers crossed. Things are pretty bleak out there in the world right now, particularly in Australia regarding the bushfires. Have you been impacted by it? What's the best thing for someone to do if they're reading this and want to support those affected?
LP: Where we are on the west coast is hardly affected compared to Victoria and New South Wales. The country is really shook up at the moment and there is definitely a backlash towards our current political climate and their lack of action towards climate change. Australia is one of the hottest climates in the world and this is clear evidence of a huge shift. The best thing anyone can do from overseas is donate to fire relief. There is a good list here if you're unsure. The amount of support though, particularly from people in the arts here, has been amazing. Nearly every band or artist in Australia has done something towards the cause and it's been so incredible to see.
TSOFDs: That's at least a positive note to end on. Thanks so much for your time Luke. Best wishes to you, your fellow Crumpets and all our readers for the Year of the Rat.
---
---
Informative Noise is out now on What Reality? Records.