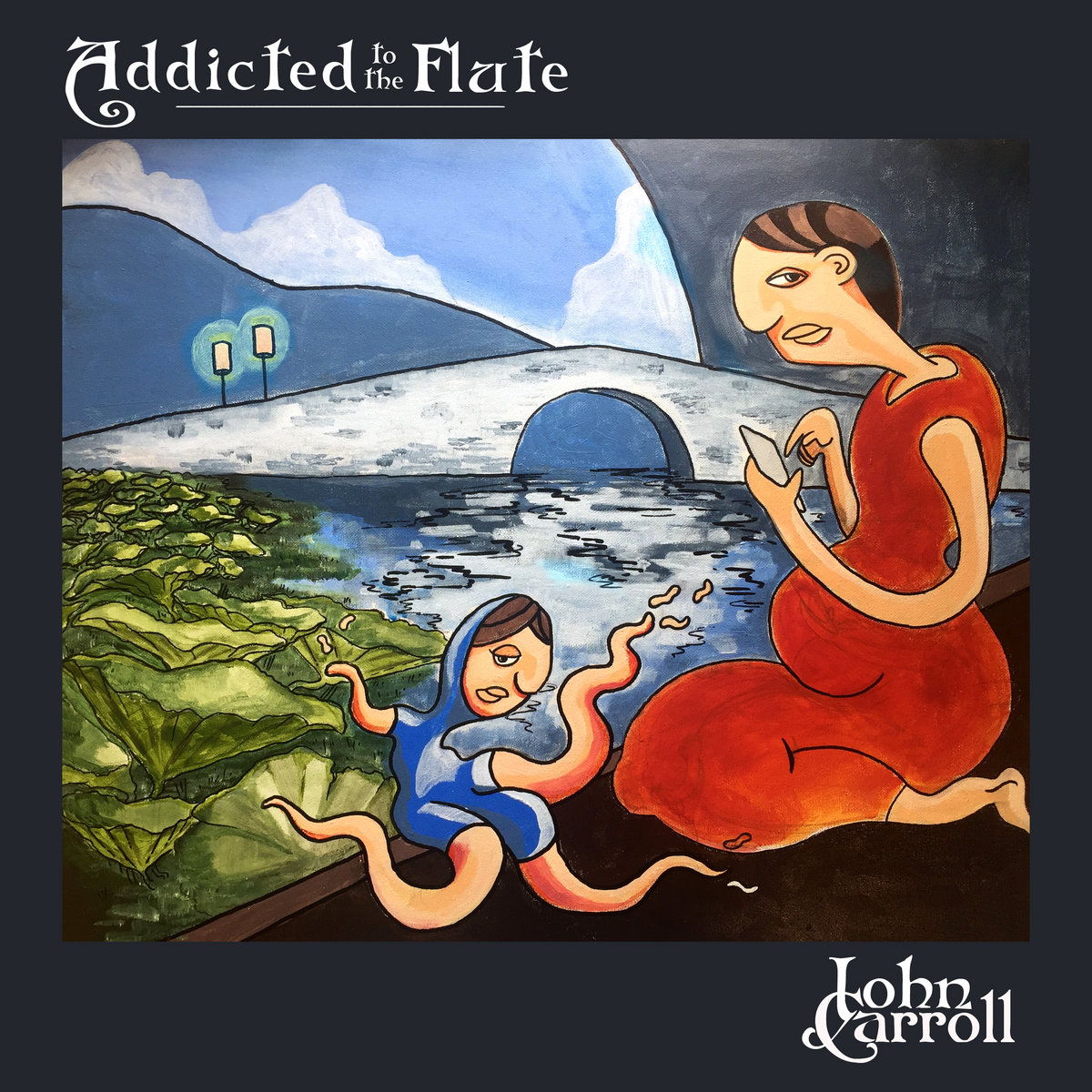 TSOFDs: Hey John, how's it going? You recently put out two singles complete with videos and now there's the brand new album these aforementioned singles feature on. You've been busy! This new LP is called 'Addicted to the Flute' – where does the title come from?
JC: Hey. I'm good thanks. So when I first came up with the main guitar riff I had been reading the news over here and found a link to the Global Times online via the Shanghaiist. In the article it read, 'Shakespeare once wrote that rumour is like a flute. That guesswork, suspicion, and speculation are the breath that makes it sound. Those foreign forces are addicted to the flute and have turned their illusions into the truth'. It was a fairly political article, but I became fascinated on the idea of how people turn illusion into the truth – how perception, morals, and culture can be manipulated and twisted by any number of external forces for their own gain.
TSOFDs: Thanks for the insight. Seems particularly relevant to the current day. You've always striven to change and pursue what interests you rather than what's deemed commercial or expected of a solo artist, refusing to just slot into that familiar bracket of ballad guy with acoustic guitar. Your mutations have occurred across a broad spectrum from lofi, to folk, to alt rock and much more besides. What can listeners expect from this latest offering?
---
JC: This album is stylistically more indie pop/rock I suppose, but it's not really anything new for me as such, more of a revisitation to my younger years playing with Medic in Limerick back in the 90s, so it has a lot more of a full band sound throughout. Aesthetically, songwriting has always been my main focus, and I'm always on the hunt for a great vocal melody and a bassline to compliment it, so anyone who's into that kind of thing might enjoy it.
TSOFDs: Sounds good to me. I'm hearing a piano influence that's more pronounced on this record than on previous outings. Was there a conscious attempt to use this as a writing tool instead of acoustic guitar? It's often the case that switching things up can lead to interesting new directions.
JC: Growing up we always had a piano close by so it's no stranger to me. Writing on it was also a fairly natural transition because The Beatles, Billy Joel and Queen were always being played at home while I was a kid, so it was always part of my sonic palette. I hadn't recorded a piano before this though, so around October/November 2019 when I started demoing new songs I decided to play around with it. It immediately perked my ears up and I knew this was going to be part of the next project.
TSOFDs: Gotcha. You exhibit a lot of talent when it comes to the visual arts, not just music. We've witnessed in this in the form of everything from your gig posters, release artwork and album notes, and music videos you've created for your own work and that of other artists. This time round however, the album artwork was created by someone else if we're not mistaken? What led to this decision?
JC: Yea that's right, actually two acrylic paintings in all by a local Hangzhou artist called Shen Yu Ru are part of the album artwork. He's been around for a while but doesn't exhibit that often and I quite like that he doesn't put his work online either. When we met he talked about preserving the human touch from algorithms and digitisation, which is something that struck a chord with me and I felt it had some relevance to the album title too. Very early on (before we met) I knew I wanted a handmade piece of art. I was sick of digital images, just felt horribly trapped by the flawlessness of them and really wanted to see the textures and imperfections of expressing human emotion. Around the time I saw Yu Ru's art I had been working on a few collage ideas based on John Heartfield's work and not really getting anywhere. I was really drawn into these images that had all the sensibilities of an uneasy mutated version of pop art but represented it through local folklore.
Whilst on the subject of collaborating to get this LP over the line, I think it's also worth mentioning that J Douglas played a massive part in how the album turned out. I originally met him in Hangzhou back in 2015. He has always been a highly prolific musician in his band Big Lucky, and producer with his own solo projects Sentient Circuits, and his more recent synthwave music with Nightonic. I had already mixed the album but didn't feel that it was up to scratch, and since he and I shared a love for The Beatles' Revolver era in particular, I knew that he had the creativity and the technical ear holes to put it all together. So I asked, if I give you this can you make it better? And he did!
TSOFDs: It's certainly a very arresting, very cool album cover and the music sounds great to match. My son is particularly enamored with the track 'Taikonauts'. He can't stop singing it and keeps pestering me to watch the video. When I asked him if he knew what a taikonaut is though he didn't know. Perhaps you can explain that to our readers and tell us a little bit about what the jumping off point was for the song?
JC: Simply, a taikonaut is a Chinese astronaut. The word 'tai kong' comes from the Mandarin word for 'space'. Originally, it was influenced by a song by Bill Callahan called 'America!' I liked that he wrote a song about just liking his country, and I was hooked by his use of exclamation marks!! I always wondered why that country has it's name in the titles of so many films, songs, etc, while other countries don't. Later on I found a cool website called Go- Taikonauts!, which kinda felt a bit cheerleader-y, and that basically sealed the deal.
TSOFDs: My son will like that as he's quite the blossoming space cadet. You're fiercely DIY when it comes to your art and I gather record the bulk of your music at home. What do you find the strengths and weaknesses are of this approach?
JC: I don't do well in unfamiliar surroundings. It often takes me time to develop relationships with people and places before I open up. I usually make a tit of myself and say stupid things and end up regretting it, so working at home for me cuts out all of that so I can focus on the good stuff. It's hard to always find the time and head-space because I have a young family that comes first, but I have everything I need at arm's length whenever I need it while also keeping expenses low.
TSOFDs: I'm sure many artists can relate. Are there any tasty morsels you can give us regarding the writing and recording process for this record? I know creative types and gear nerds are always particularly interested in the nuggets we give them in terms of how songwriters approach their craft and, also, what gear or techniques they employ when it comes to getting their ideas down. It's always fascinating to hear more about people's creative processes – it's inherently mysterious for people wondering how songs begin life and how they come to final fruition.
JC: I spend a lot more time writing than I do recording and tend to write in bulk during the winter months. Dec/Jan are usually my busy creative months and I'd usually pen upwards of 100-120 ideas for new songs during that period. I generally choose my favourite ten of the bunch and then develop those ideas further. I prefer instruments, pedals and amps rather than digital stuff and plugins. I'm a very practical person, and put everything I have to good use. I think it's very important to limit your options, so I tend not to think too much about tone and colour until the fundamentals of a song are strong first. I have had the same acoustic and electric guitar since 2004. My bass I bought in Shanghai in 2009, drums i got in 2008. I use a kick ass Neumann vocal mic, and a Chinese blue Babybottle through a Tascam US-1800. A good friend lent me his Vox Mini5 guitar amp for recording this album. I love talking about writing songs. It's my favourite topic.
TSOFDs: You've been applying yourself to and honing your craft since your teens. What advice would you give a teenager today that is eager to pursue the artistic life?
JC: If you're adamant about being an artist you need to work harder and smarter than anyone else you know, and that's just to survive. Top priority is not being a dick to anyone. Collaborate and get involved with your community – don't make it all about yourself. Keep your expectations low, but deliver like a demon out of hell every single time.
TSOFDs: Young artists take note! Thanks so much for your time John. If we could round things off by you giving us some artist recommendations whose music we should also be buying then that would be the icing on the proverbial cake.
JC: You're very welcome. I usually purchase digital music on Bandcamp but also listen to vinyl records, and I'm currently listening to Ariel Pink, Louis Cole, Jinx Lennon, Ty Segall, Blokeacola, Powpig.
TSOFDs: Cheers for the recommends!
Addicted to the Flute is out now on Bandcamp.